CLIENT

Creating a Competitive Edge
How we helped The Coca-Cola Company to see sports drinks differently in three fast-growing cities.
When The Coca-Cola Company asked for our help in taking a fresh look at its sports drinks category, we knew that we could get the answers it needed from researching the cultural, behavioural and lifestyle trends in its target cities: Mumbai, Jakarta and Shanghai. And we could do it by first conducting desk-based research and interviews with experts, then running our findings through the filter of everything we know about anthropology, branding, semiotics and marketing.
The result was a new way of positioning Coca Cola's sports drink category in these fast-growing markets: as a driver of both health and success at work.
Project Aims
The Coca-Cola Company needed a strategy for how to refresh its sports drinks category and double market share by 2020. But that meant understanding how the category (which included Powerade and Aquarius), was evolving in three of its fastest-growing markets: Mumbai, Jakarta and Shanghai.
To do this, our clients asked us to carry out a trends research project that would give them the insights and direction they needed to develop a proposition that would hold water in all three cities.
Process
The project consisted of four stages:
1. Trends research: We used the internet, publications and the media to explore some of the trends that were shaping the sports drinks market in these cities. Then we looked at trends in related areas, such as lifestyle, fitness, sport, demographics and work.
2. Competitor review: To work out where Powerade and Aquarius stood in the market, and how they needed to change, we looked at the advertising, branding, media, design and semiotics of the competitor brands in each region, and the cultural codes they'd created.
3. Expert interviews: We took the insights that were emerging from the trends research and tested them with lifestyle, media and academic experts from Shanghai, Mumbai and Jakarta.
4. Analysis: We applied our knowledge of anthropology, branding, semiotics and marketing to analyse our findings, focusing particularly on consumer behaviour and lifestyle trends. This gave us a picture of the market on to which we could map emerging themes and opportunities.
---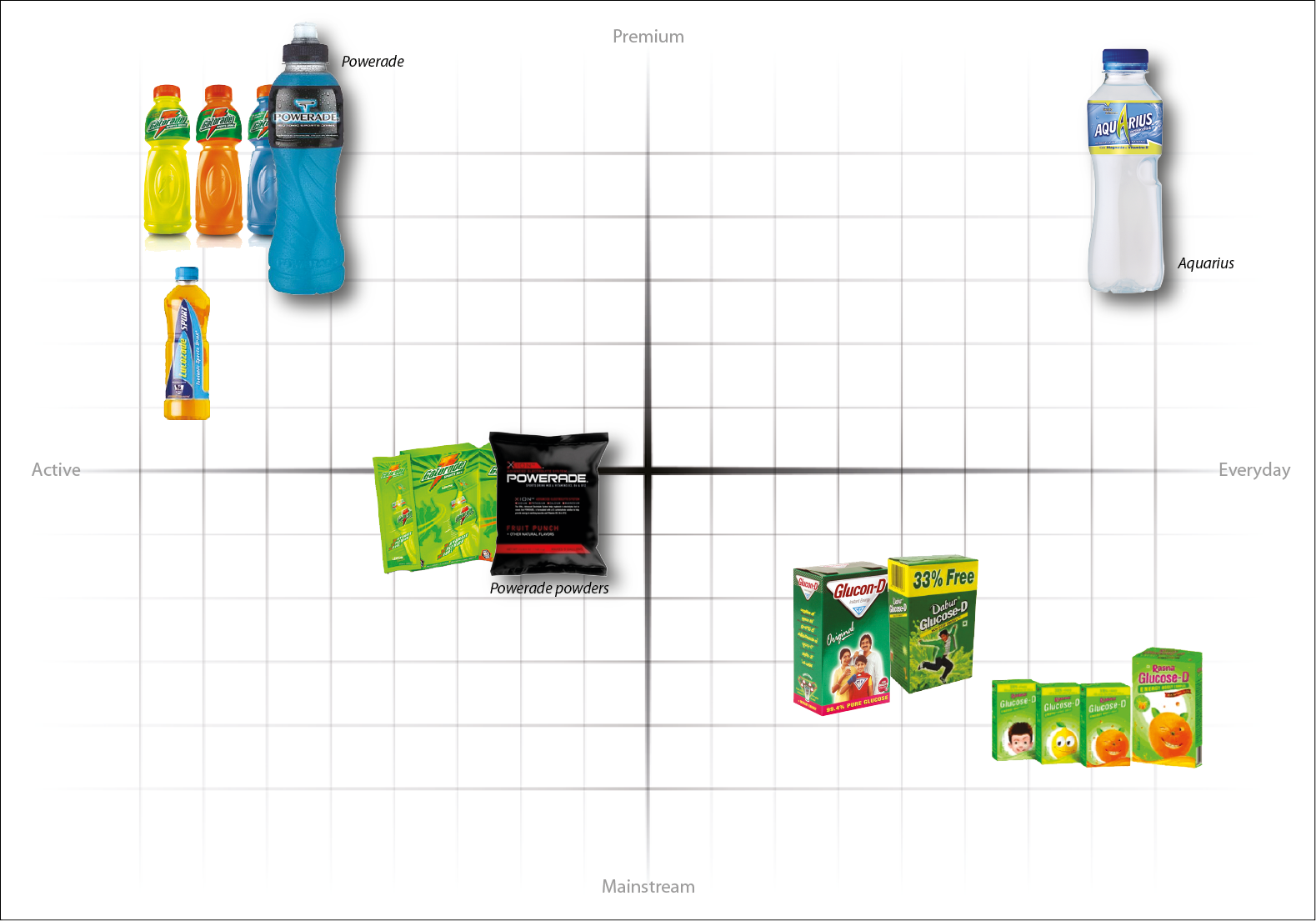 ---
Key Insights
After analysing our findings, one thing came through clearly in all three cities: there was a strong drive to be successful. And people valued being fit and looking healthy because this symbolised success.
But success wasn't just about being fit and healthy. It was also about being focused and working hard. So to achieve the category's aims, Coca Cola would need to position Powerade and Aquarius as both sports and lifestyle drinks.
Value for the Client
This project allowed Coca Cola to see its sports drinks category differently in three key cities. And this, in turn, helped them to creating brand messages that reflected the cultural landscape of those.